Creation of a website for free
Create your site with Yoctown
Your website for free
Can I really create a website for free?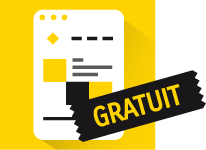 Absolutely, since the free version is really free : you register from Yoctown's homepage, you create your website. In order to go on this, you validate its creation thanks to the confirmation e-mail you receive, we will not ask you any cent.
In return, advertisements will appear on the border of your pages. Thanks to advertisements you can have a free website.
Create a free website with such quality, with numerous options and quite a few free, is an opportunity you should not pass up. With a free website, you get a URL address at the name of your website followed by ".yoctown.com". Like for example: www.my-website.yoctown.com, here is how your page will appear with the free version. Besides, the free version is not a "trial" version; it means that at the end you will not have to pass to the "premium" version (here, "exclusive"). If you decide to keep the free version, we will not ask you to pass to another version after a period of time.
Create a website for free
Create a website is often costly, and it often becomes not profitable, and a burden for many companies. Especially if it costs a lot of money, if its maintenance and update are charged, and if the website-provider company commits you for quite a few years. So much settings you should take into account before committing in a a website creation, so that it can be as profitable as possible.
On Yoctown, we take into account all these settings, and we provide you a service for creating a website that can only be profitable for you. For less than 180 euros per year (or for free according to the selected offer) for a website with hosting, management software, domain name and SEO, you are not committed and you benefit from free and unlimited updates. We also provide you an entirely-free offer and without obligation, but with a few ads.
Website's free management
Our offer embraces hosting, online management software, the possibility to create at your convenience photo albums, web pages, blog articles, Google Maps… It is not only free but also easy and quick to make. For each different step, we provide you the whole of online tutorials, in order to answer to all your questions on the topic. However, if you want to go further with us, nothing stop you from passing to the charged version called "Exclusive". It allows you going on complementary units (especially with the possibility to get a .com domain name…)
This "Exclusive" charged version as for it, will be exempted from any ad on the borders, since this version do not need other financing – contrary to the free one. The free version is perfect for personal websites and for some event websites. However, for professional websites, it is recommended you use the charged version for its extra units and options. They allow meeting at best any expectation and need of professionals.