Create a website for an artist
Create your site with Yoctown
Create a website for an artist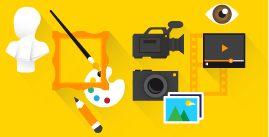 With Yoctown, you can create an artist website with varied multimedia tools. In fact, you will be able to add and stock photos (alone or in a bundle) on your website. It will be possible to create sliders/slide shows with your pictures in order to present your creations (whether you are a painter, a sculptor, a drawer, a plastic artist, a dancer, a producer, a moviemaker….) Moreover, you can refrence your pictures with the HD photos option, to add jointly with the extra storage.
You can also post videos on the website, via platforms such as Youtube, Dailymotion, Vimeo. Singers, musicians, dancers, actors and producers can also post their last artistic performances so that Internet users can better discover them. You may add a password for a reserved viewing to some pages and some photo galleries. Finally, you will be able to provide downloads to your visitors, such as PDF, MP3 pieces (your pieces samples)…
A customized website
You will be able to customize your website in different ways. You can customize the design by means of your administrative interface, whether it be the header, the footer or even sidebars that you can add and place on the left or on the right. Moreover, it is possible to insert a logo in favicon on your website, that is to say a small logo on the browser's tabs.
Even if you do not have web and programming knowledge, customizing your website is within your reach. The customization goes further than the design since you can add slide shows on your web pages. Besides, you can customize your website thanks to keywords and meta data that contribute to your SEO.
Advanced options for artists
You can benefit from a multilingual website, you can add translations on your own so that the website can be available for consultation worldwide, since art has no border. You can create as many web pages you want on Yoctown.
With the administrative interface, you will be able to control the traffic on your website – especially by means of Google Analytics. Besides, you will be able to create a member space, especially to provide access to some pages or galleries you would have restrained access. For a more enjoyable browsing, Yoctown provides an option for a website with no ad.