Create your site with Yoctown
Why a website
Created in the mid-1990s, the World Wide Web, an Internet branch, imposes itself in each one of our lives. Quite quickly, it became a challenge in the economic and social relationships field. In our current society, for most of the population, it is more and more unimaginable to spend a single day without connecting to the Internet and making researches. Thanks to Google, or even Yahoo, Internet users make researches on topics they like or captivating them.
It is more and more common to go on the Internet to make researches, especially thanks to online encyclopedia like Wikipedia, or make online purchase thanks to e-commerce websites. Nowadays, it becomes more and more important for companies to have a website, it is even vital for many of them.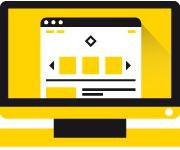 You want to create an operational, referenced, personal or professional website easy in its different realization steps?
Yoctown makes the development of your project easier, offering you at the same time, an intuitive and easy-to-use platform, regardless of your experience level. As a consequence, you will be in position to create a customized personal or professional website, meeting your expectations, as well as the current web requirements.
Create a complete website
In order to get a complete website, you must not limit yourself to create pages with text. In fact, multimedia content (photo albums, slide shows, maps…) is necessary in order to have a website able to capture Internet users' attention. A blog is also a non-negligible plus, since it shows that you keep going your website. Be careful anyway with a blog, if it is not regularly or periodically updated with new articles, it can become a disadvantage.
The form, as it is, is essential for any professional website. In fact, create clients folders or cost estimates/ bills is a necessity for companies. The possibility to use this option on Yoctown considerably simplifies the accounting and management work, especially for very small businesses, auto-entrepreneurs and craftsmen. It allows saving time, which is not negligible for small businesses and auto-entrepreneurs.
The blog is useful as much for particulars as for companies. In fact, in this way, particulars can talk about their trips, holidays, everyday life experiences, while companies can present their news, whether it be the company' life or its products or services range.
For companies
Create a website is essential for a company, so that its potential clientele as well as its current one can see it (and then win its loyalty). Moreover, Yoctown's platform really takes into account the referencing of your website on search engines (Google, Yahoo…). Consequently, your Yoctown's company website will be in position to correctly appear on research results.
The platform allows companies creating their own website with negligible prices for a quality final result. You can create a website for very small businesses, SMB, craftsmen, traders, auto-entrepreneurs or limited liability companies, in order to get a better influence on your current or future clientele, without having to resort to professionals and the followings prices. Prices professionals request for creating an referenced website, often reach thousands of euros.
For particulars
Create a personal website allows sharing with its friends everyday life experiences or even holidays or trips' memories. With the blog page, your friends can comment articles you post. Moreover, you can think about adding galleries and photo albums about your holidays and best moments for free on your website.
Yoctown's administrator interface is fast and easy to use, since it is made even for people with no programming knowledge. After choosing a website address during your registration on Yoctown, you could be led to use it. Besides, create a website on Yoctown is free. Consequently, you benefit from of one of the best price-quality ratio with Yoctown.