Create your site with Yoctown
A website for free: it is possible
What is the price of a free website?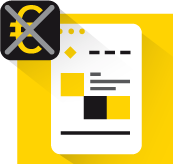 A free website is, as the name implies, free!
But you will probably ask you this question: What is the point for a service provider to offer you a free website?
Actually, the answer is simple: You create your website, in exchange the service provider will put advertising spaces on your web pages. It will be responsible for market it, in order to make your website profitable at best.
This is why ads appear in frames on numerous websites. The ad allows financing free websites. Of course, without it, it would be impossible to guarantee such offer with an efficient service. Yoctown works on the same system to provide you an entirely-free website, during the creation such as during the use. However, there are some extra options available, they are part of the charged offer, quite dedicated to professional websites.
An entirely free website
An offer really free, does it really exist?


However, you have to be careful with some language abuses, knowing that a free website includes the website itself, the hosting, the domain name and the updates. You will have to be very careful regarding the fact that whole services are free, and not only some of them. In fact, with Yoctown you can create a website for free, but also have a free hosting.
On Yoctown, all this Internet services are entirely free for the basic offer. There is no "hidden defect": you will not have anything to spend. This is why we provide you a free offer so that Internet users – those who do not want or cannot spend money – can use (erreur) it. As for users who want to use the premium version, we provide you numerous options allowing you to have a totally-professional website. However, there are also free options for Yoctown's free version.
A quality website for free
Yoctown's free version is not one of those offers deprived of any worthy-of-interest content. In fact, on some platforms, free versions are limited to the bare minimum regarding content and possibilities. Yoctown is not one of them, since the first standard is already high. In fact, you can create photo albums with descriptions and comments, slide shows but also customize your website's design.