Create a professional website
Create your site with Yoctown
Websites adapted to professionals' needs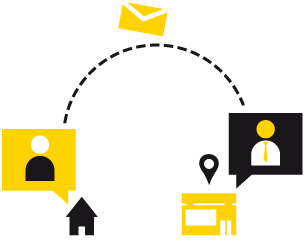 What is a professional website?
It is mainly a website you will use to emphasize your activity.
You can make your contact details appear so that potential clients can easily contact you, but also images or description of your products, a plan to situate you and eventually a contact form.
An efficient SEO will allow those looking for your activity sector finding you quickly thanks to search engines.
First of all, the website will serve as a showcase: it is easily editable and it can be interactive (comments, forms…). Thanks to your website, you can convey messages to your clients in real time so that you can provide them an always-updated information. A website can also make you save money: a photo album with your products' description is easy to use and to do, and save you from printing pamphlets that you would have to send to all of your customers... Give them your website's address, they will be able to gather information at leisure and contact you directly by e-mail or thanks to a form.
Currently, a lot of companies invest in a website creation, and sometimes, they are ready to pay a small fortune for not being overtook by their competitors in this field. We offer you the chance to have a website with a very attractive price and without commitment. You can even test our free version. In every instance, quality and aesthetics will be at the appointment: the different possibilities we offer you regarding designs just have only one goal: highlighting your content! Our free offer includes among other things hosting, online management software, a possibility to create photo albums at your convenience, web pages, blog articles, Google Maps… The "exclusive" charged version offers you extra options, including a .com domain name, a better referencing and the absence of parasite ads. You can consult our comparison chart to find out more information.
And if you think that you do not have enough time to manage a website, you are mistaken! With Yoctown, creation and management are easy and quick. You can do everything by yourself, with no specific HTML or PHP knowledge; it avoids paying steep-price professionals. But you can do it without spending too much time at the cost of your other activities!