Create a personal website and web page
Create your site with Yoctown
Create your complete personal website in all simplicity!
I do not have a company, what would be the point of a personal website?
Even if you are not a company, you can find many uses in a personal website.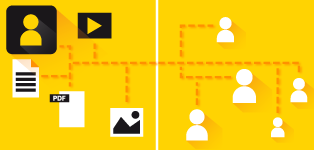 With a personal website you can share your experiences, holidays' memories or even everyday life's anecdotes with your friends and acquaintances. With the blog page, your friends will also be able to comment your articles.
Besides, you can add photo albums and galleries from your holidays or your best moments, for free on your website.
You just have to choose which name your website should have, then, thanks to Yoctown administrator interface, the creation will be quick and easy, but also planned for beginners with no programming knowledge. Besides, with the platform, you can create your personal website for free, consequently you benefit from one of the best price-quality ratio with us.
Website uses
If you are a student or a high-school student, your personal website can have other uses than sharing your best moments and holidays. For example, with group practicals, you can share what you've done, especially for your professors, who will be able to easily check your work. Also, you are in position to store files related to your academic/university course easily available for consultation – without resorting to a thumb drive or a messaging service. Besides, you can share your lessons in doc format, for people who cannot attend a lesson…
In this way, there are several reasons that justify a personal website creation, even if social networks are a real competition for personal websites. They have their own advantages that partly or totally default in social networks.
A personal website's advantages
Moreover, there are several inherent advantages to create a personal website with Yoctown. With a blog, it is much more easy to get back to old and chronologically-classified publications, you can reach them without scrolling more than necessary, like on social networks. Then the personal website can be easy to reach (for consultation) when you are in a public space or in a computer room (high school, university, company).
As said before, with a personal website you can also store files, like text or Excel tables files that you can use in university or work. Finally, with the responsive compatibility, you can easily reach your website on mobile/smartphone or tablet what, as a consequence, is an advantage compared to other website-creation platforms not as much adapted.
If you are an association member, whether in sports, charity or another one, you may want to show it to people who may come with you thereafter. A presentation page, some pictures, the association contact details, eventual prices and there it is. It is so fast than it will be a shame not to use it… and of course you can do all of that for free!
And as an option, we can provide you an e-mail address…