Weekly innovations for your website
7 good reasons to choose Yoctown
New customizable designs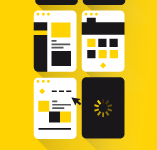 Yoctown provides numerous designs and patterns to its users, so that they can customize their website style, whether they are free or from the exclusive version. But knowing that the community is destined to grow up and that there is no accounting for taste, new customizable designs join existing designs, in order to please a varied clientele still growing.
In this way, new orientations appear over time. This is why, in a logic of permanent reinvention, keeping at the same time its trademark, Yoctown innovates and offers new designs that will be fully integrable on your website. These designs are tested beforehand by our team, in order to check their compatibility with Yoctown platform structure.
New features
Among the innovations, there are also the features, created for our users' needs, in order to adapt at best to their professional and personal requirements. In fact, professional websites, according to business sectors and professions, have their own needs. Yoctown strives to continuously offer new features. Web and its technologies' evolutions also explain why innovations appear at more or less regular intervals.
Consequently, do not hesitate to tell us about your expectations, your needs regarding features, units and options to add, so that we can add novelties meeting your needs and Yoctown's community other members' ones.
Innovations accessible to all
The innovations Yoctown offers are destined either for the whole users or particular users. A new free design could be used for all interested member. A new unit or feature will sometimes be limited to a profession or a kind of particular website.
In fact, innovations can concern as much the free version users as the charged version ones. Some innovations will be free and so accessible to all, while other will be available for competitive prices, but, meeting some particular websites' needs or requirements.