Create your site with Yoctown
An easy creating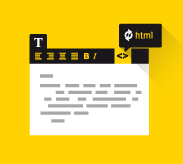 With Yoctown, you do not need knowledge in website-creating software, such as FTP. In fact, Yoctown is an online CMS integrating all the website-creating steps. Thanks to the work done ahead by Yoctown's professionals, it will be really easy for you to create your website. You will not have to install a software nor master programming languages, such as HTML or CSS. Indeed, a text editor for your web pages will transform what you type in HTML language using the small tag conversation icons.
To create your website, you just need to choose its name, and then register on Yoctown. Then – by means of your administrative interface – you will be able to add all the content you want. You create a website in a few clicks. It is also more easy to add content than with a website you create on your own – for which you have to use FTP software. With Yoctown, you do not need to install anything, nor learn or master any software.
After the website creating
After your website creating, you will have to validate your account with a working e-mail address. Then, you will be able to choose which options and which content you want to add to your website. It is necessary to validate your account for practical and safety reasons. Create a website is really easy; Yoctown provides numerous management and editing tutorials to its users.
When you create your website, you do not have to worry about hosting, since it is offered by Yoctown. Consequently, you will not have to call on another website. Except if you want to get a website with its own address without the Yoctown mention (.fr .net or .com website for example), then you will have to get a domain name near by a registar (OVH, Gandi, One&One...)
Easily manage your website
You will be able to choose which design you want to select for your website (even to make a more complete customization), or which services/options you plan to take. You will also be able to choose the units (pages, galleries, photo albums, blog, forms, menus, sidebars, comments, customer management…) and complete them with content, in order to develop your website and satisfy your future visitors and/or clients.