Create a website for an association
Create your site with Yoctown
Associative websites adapted to your needs
I am in charge of an association, which advantages can I withdraw from your offer?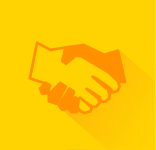 In most cases, an association is made to be known.
If you are looking for new members, they will be able to find you thanks to search engines, they will have an idea of your activities thanks to your photo albums, your blog articles, they will have your contact details on your homepage as well as your opening hours and your prices, you will even be able to provide an access map.
For your old members, the website may be a good way of communication: you can easily and quickly upload any news or modification related to your activities, they will let you know their opinion with their eventual comments. You can also upload pictures of such and such event so that everyone can share them, around you but eventually in the whole world… We provide you all the Internet power!
Associative on the Internet
For an association, the internet is an excellent way to make itself known. It can set out its missions, actions, campaigns in broad daylight. Moreover, thanks to Yoctown you can create a website for free, with a reliable and secure hosting. You create your website for free, with a very good final result, a simple realization and without the necessity of specific programming knowledge. Without resorting to web experts, you can easily create your association website. Besides, you can create a blog on your website for free.
With Yoctown, you can make all the useful and required tasks for an association, in fact, there are many options available. One of the main need of an association website is the chance to make an online donation since people often prefer them rather than e-mail donations. As a consequence, when its website allows it, the association on the Internet can simplify the reception of donations.
Associative customized website
For an association, communicate with donors and more fully, any person who appreciates the association broached thematic, is an essential point. As a consequence, as an option, Yoctown provides the chance to use an e-mail in the name of your website, that is to say without the "Yoctown" mention in the address. Besides, the website can choose a .org address as website extension, in order to match with the associative logic.
Besides, you can add forms to fill on the website (especially to contact the association), integrate downloadable PDF, videos, Powerpoint, slideshare. Besides, you can add a customized heading banner, the association's symbol/logo, a Google Map – in order to situate the association… Here are ones of the available options to customize the associative website.
Yoctown's ease of use and the care we bring regarding ergonomics and design, will quickly make it a valuable tool for you.