Tiny prices for the advanced options
7 good reasons to choose Yoctown
Free and budget Price Options
Yoctown provides you many budget price options and features, in addition to the ones you can get freely. In fact, highly-competitive prices are available for quite a few features. Complete websites for a discount price, with professional specialized units, here is what Yoctown offers.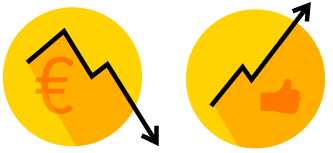 Yoctown's aim is to provide its members services with prices as low as possible. It guarantees quality products drew up by a team of engineers and web professionals working for Yoctown. There will be no ad on your website if you select an option which allows concealing every ads, with a tiny price. It can be selected alone or within the exclusive offer which includes every options.
Here is an example of freely available options without any cost :
An advanced referencing
Favicon personalization
Logo personalization
A ontact form
A traffic analysis
Pages restriction by passwords
Design edition
Hosting
Sliders
etc...
Available Offers
You can either select personalized options, or select the exclusive offer as a whole. According to your needs, you will choose either the first possibility or the second one. Some of the users who select the first one will be able to benefit from a quality secure website hosted on site with a personnalized domain name (without the « Yoctown » mention) and a first-class price-quality ratio.
With the second offer, you will benefit from all Yoctown's options, charged and free ones, in order to get an entirely complete website. In this case, you will not be forced to use them all, because you can enable or no some options, or even not create content inside. That's why it is recommended for people who only need some charged options to take the «personalized » ones.
Tiny Price Options
Whether you need :
An extra storage for your pictures
A chance of posting your pictures in HD
A chat room
A forum
A multilingual website
To create an online restaurant website
An e-commerce compatible website with online payment
A free-advertising website
Online booking
etc...
Those options' prices are very interesting. You can benefit from a complete website, completely customizable, regardless of your profession (in case of a professional website) or your passion (in case of a personal one), with very attractive prices.